October 4, 2023
Rev. Rordigo Zarazaga, S.J., on the Fragmentation of Politics in Argentina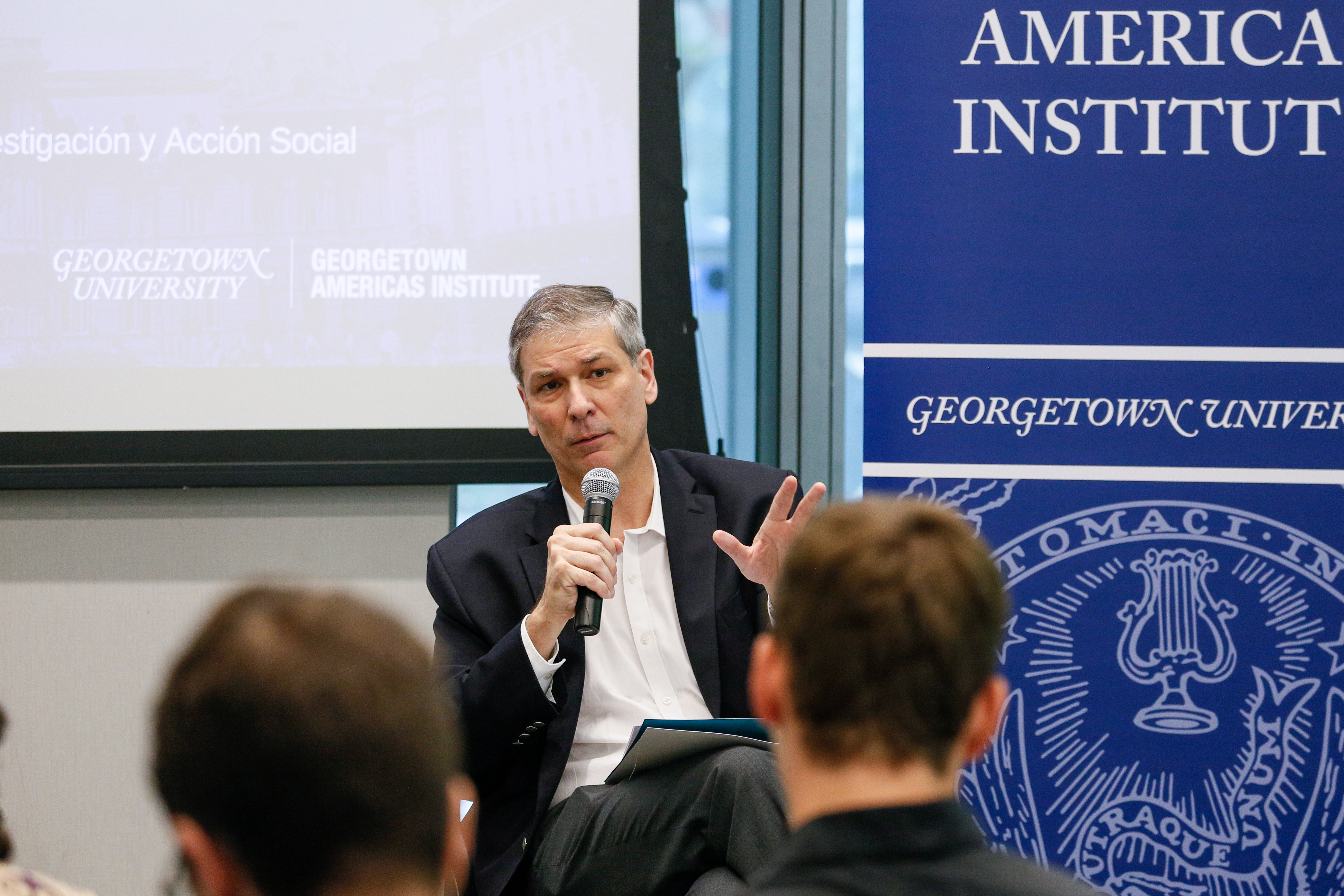 The national primary elections in Argentina in August 2023 left many surprises for the economically embattled country. The historic defeat of the ruling Peronist coalition Unión por la Patria (center-left) was marked by low voter turnout, the unexpected slim-margin victory of Javier Milei's La Libertad Avanza (libertarian, right-wing), and the surprisingly poor performance of the main opposition coalition, Juntos por el Cambio (center-right). To make sense of the increased political fragmentation in the country, GAI hosted Rev. Rodrigo Zarazaga, S.J., to talk about what to expect ahead of the country's general elections in October 2023.
Putting the Primary Results in Context
The ongoing fragmentation of Argentine politics has taken place at the end of a two-decade period of increased political polarization. Two clear moments defined this era.
First, the Peronist movement under the Kirchner administrations (2003-2015) became largely hegemonic, empowered by the Kirchner family's advantageous use of an atomized political system to build a sizable majority with no clear counter. During this period, the opposition slowly re-coalesced as the country grew more polarized between Kirchnerist and anti-Kirchnerist camps, leading to Mauricio Macri's victory in the 2015 presidential race under the umbrella of what would later become Juntos por el Cambio.
The second chapter comes as a period of intense polarization between the Peronist-Kirchnerist coalition now called Unión por la Patria and the anti-Kirchnerist Juntos por el Cambio.
"We are facing a new political landscape. The two traditionally dominant coalitions, which were born out of the 2001 crisis, have recently lost significant support. Milei's movement, born out of the failure of these two, is succeeding in this environment." - Rev. Rodrigo Zarazaga, S.J.
Both coalitions ruled the country between 2015 and 2023, although neither was able to deliver on their promises. Consequently, rising poverty and inflation left voters largely disillusioned with both movements which, aided by factional infighting within the traditional coalitions, empowered Milei. His movement emerged on top in the primary's three-way results, earning a slim majority over the other two. Unión por la Patria and Juntos por el Cambio lost over seven million votes compared to 2019, an equal number of votes to what Milei received in the primaries.
"Milei may be far right, but he is surprisingly voted for by the poor. The poorer the district, the more votes he got in the primaries. This is the opposite of Juntos por el Cambio and very similar to the traditional dynamics of Peronist coalitions." - Rev. Rodrigo Zarazaga, S.J.
Changing Politics in Argentina
According to Zarazaga, voters who support Milei are tired of the establishment and have rewarded his anti-politics posture. Many, particularly young people, have no recollection of a positive period of economic growth, so they are willing to support something different. Here Milei's proposals actually come across as contradictory and fractured, although Zarazaga argues that this actually resonates with a fragmented electorate.
"Milei is likely to win because moderation has had no traction with society in this election. However, there will be considerable governability challenges for anyone who wins, and particularly for him. The two leading coalitions will be severely weakened, while his movement will control no governorships and will hold just around 15 percent of Congress." - Rev. Rodrigo Zarazaga, S.J.
As for the two other coalitions, Unión por la Patria, the Peronist movement, will come out of this cycle weaker than ever and in need for a serious internal reconfiguration. They will likely retain 30% of the electorate but face significant voter rejection.
Juntos por el Cambio, on the other hand, is already struggling with its identity as the sharp decline of its foe, Peronism, has left the movement aimless. Some members of Juntos por el Cambio have shown sympathy for some of Milei's proposals. Meanwhile the coalition's presidential candidate, Patricia Bullrich, has struggled to find her voice, ideologically locked in the center between Milei and Unión por la Patria's Sergio Massa.
More political fragmentation will inevitably follow a potential Milei victory. The outlook is grim, but Zarazaga remains hopeful for his country's democracy.
"Since re-democratization in 1983 we have gone through several economic crises, but through them our democracy has never been at stake. I trust in Argentine civil society, and I believe that no matter the result our democracy will not be in peril." - Rev. Rodrigo Zarazaga, S.J.
A full recording of the event is available on the GAI YouTube channel.